Please note: This functionality is included in Manifest Maker 4.0. This patch is only for Manifest maker 3.7.*
Patch for version 4434: Error 0x80070005: Access is denied.
You may experience error "Access denied" when building manifests for COM DLLs created using Visual Studio 2010 sp1. This patch addresses this problem.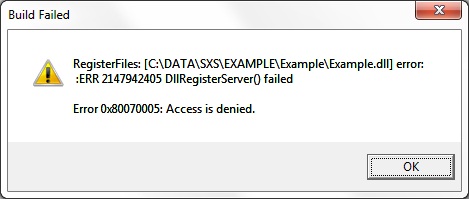 To apply the patch download the 32-bit or 64-bit ZIP file below, then unzip and replace existing files with files from the ZIP.
For each COM DLL that has the above problem:
The new attribute is preserved and correctly copied when the project is saved in this patched version of Manifest Maker. Future versions of Manifest Maker will correctly recognize this attribute in the project file and include UI and command line elements to set and reset this attribute.
Downloads